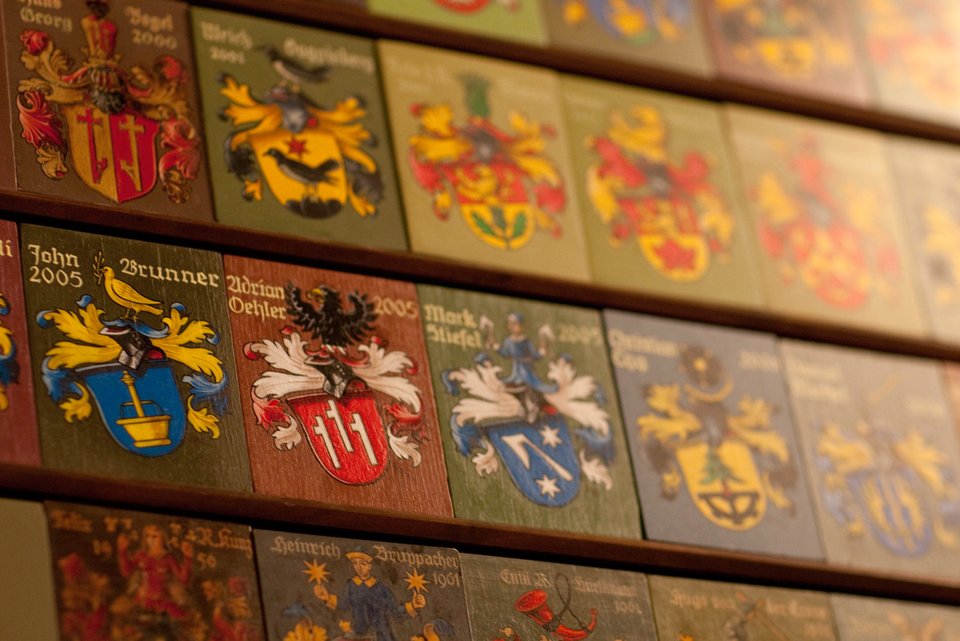 1336
Merging of various tradesmen groups to form the Zunft zur Schmiden (Smiths Guild): smiths, sword smiths (weapons), pewterers (dishes/platters), bell makers (cow bells, church bells), tinsmiths, helmet makers, shearers and barbers.

1376
The Smith's Guild owned and operated a pub on Strehlgasse.

1412
The "zem guldin Horn" building was purchased at the large "Hofstatt" (the corner of Marktgasse/Rindermarkt) by the Smith's Guild. This makes it is one of the oldest guild houses in the city.

1520
Installation of the Gothic Zunftsaal (guild hall) with special window piers, columns and late-Gothic wall and ceiling mouldings featuring mythical creatures.

1701
Opening of the first restaurant in the Zunfthaus.

1856
Installation of a new gaslight along with the first expansion of the Zunftsaal.

1893
Installation of electrical lighting along with the second expansion of the Zunftsaal.

1901
Expansion of the Zunftsaal with installation of the hall lifting wall.

2001
Purchase of the neighbouring property "Zum Schwarzen Adler" by the Smith's Guild.

2009–10
Refurbishment and renovation of the Zunfthaus, reopening as an exclusive event location without restaurant operation.